On May 23th, the closing ceremony of Contemporary China and Xi'an "Chinese Bridge" Online Group Exchange Program undertaken by NWUPL was successfully held at Chang'an Campus. Vice president Wang Jian, Talgat Mamyruly and Saule Anuar, principal and vice principal of the International Kazakh-Chinese College, Hu Xufeng, director of the China-Thailand Education and Cultural Exchange Center, Li Jun, director of the Chinese Department, Sripatum University (Thailand), over 20 lecturers of this program, and over 150 teachers and students from educational institutions in Kazakhstan and Thailand gathered "in the cloud" and review the wonderful moments and fruitful results. Sang Yuanfeng, director of the Office of International Exchanges and Cooperation NWUPL presided over the online closing ceremony.
Building "One family One world" through the "Chinese Bridge". Wang Jian said that the "Chinese Bridge" has become a critical platform for young students from across the world to understand China. This online exchange program integrates three modules, namely Chinese Language, Chinese Traditional Culture, and Contemporary China and Xi'an, intending to impress learners with profound Chinese culture when they learn the Chinese language and history on the silk road, and encouraging them to figure out how to carry forward and develop traditional culture based on their understanding of Xi'an from the past to the future. He hoped that the bridge of communication, friendship, understanding and culture set up by the online group exchange project of "Contemporary China and Xi'an" and "Chinese Bridge" can be as solid as a rock.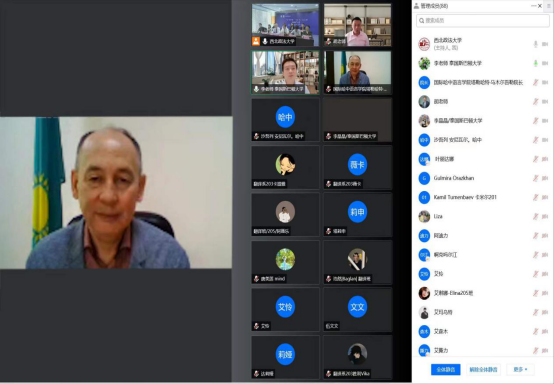 Mamyruly said, the International Kazakh-Chinese College has effectively integrated 20 courses from the "Chinese Bridge" program into its original teaching schedule. With profound knowledge, professional teaching and positive attitudes towards scholarly research, the lecturers have enabled students to acquire knowledge, experience happiness and make friends. He expected students to further their passion for learning Chinese and their understanding of China with the help of the "Chinese Bridge", and lead a wonderful life.
Li Jun said that the online exchange program enables students to understand and appreciate Chinese culture and achievements, particularly the significance of Silk Road, the aroma of tea, the essence of painting and calligraphy, the charm of porcelain, and the beauty of Chinese dance, and to be fully impressed by the time-honored history of ancient Chang'an and the tech-empowered prosperity and progress of modern Xi'an.
Liu Pengkai, representative of lecturers, said that the teachers managed to display a real, three-dimensional and comprehensive China through carefully-designed courses in accordance with the objectives of the program; students also engaged themselves in in-class interaction and homework, and have established friendly connections with one another.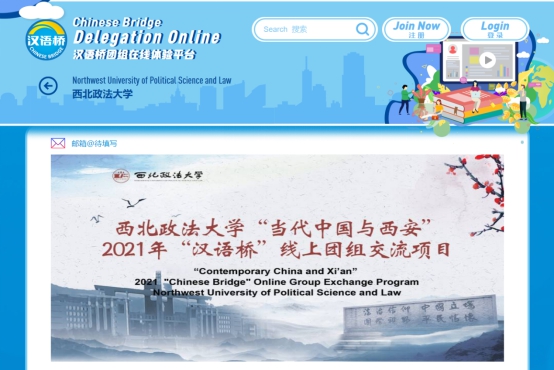 The course of the program offered by NWUPL is now available on the official website of "Chinese Bridge". The program was held at Chang'an Campus through May 10 to 23. More than 150 students from Kazakhstan, Thailand and other countries took the program and enjoyed their learning through live and recorded courses.