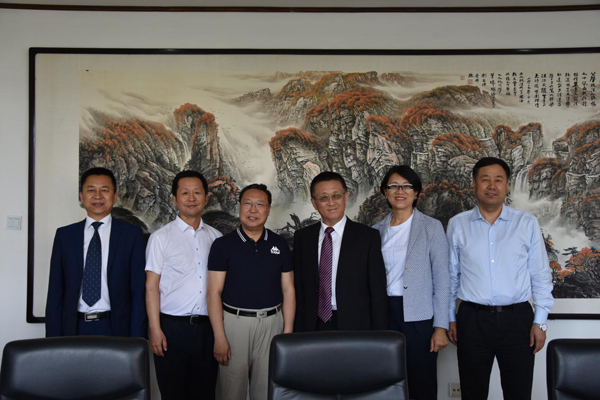 On the afternoon of May 14, Vice President Wang Han of Northwest University of Political Science and Law (NWUPL) met with Mr. Dong Baocheng, Vice President of Soochow University of Taiwan, and Mrs. Wang Min, at the Chang'an campus to exchange views on the development of talent training and academic cooperation in consideration to the "Belt and Road" strategy. Presented at this meeting was the director of NWUPL Hong Kong, Macao and Taiwan Affairs Office and heads of the School of Administrative Law.
Professor Wang Han expressed his sincere welcome to Mr. Dong Baocheng and Mrs. Wang Min upon visiting NWUPL. He mentioned that Soochow University is the most stable, extensive and effective partner in the cooperation relationship established by NWUPL. The exchange and cooperation between the two universities cover many fields, such as students' study, faculty visits, academic research and so on. The "Cross-Strait legal Culture Festival", as a key project of the Taiwan Affairs Office of the State Council, have become a national brand of influence, and is an important platform for the exchange of friendship and the deepening of the identity of young students across the Taiwan Strait.
Mr. Dong Baocheng actively recognized the good cooperative relationship between the two universities and expressed his willingness to cooperate in the areas of student exchange, PPP project of legal regulation and so on. He mentioned that expanding and encouraging exchanges and communication between faculties and students across the Taiwan Strait is of great significance to the development of a close relationship between both sides. The Law School of Soochow University intends to organize students of general education to exchange and study inland and to be enrolled in the "Belt and Road" courses.