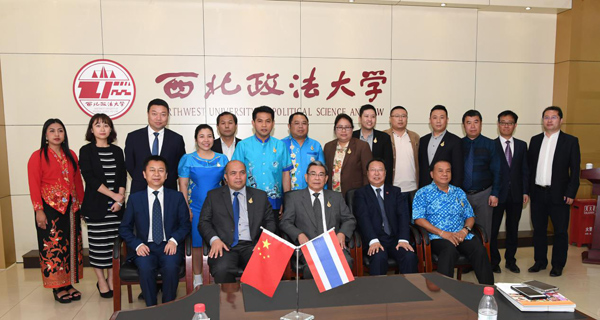 On the morning of April 23, 2018, Professor Wang Han, Vice President of Northwest University of Political Science and Law (NWUPL), met with the delegation led by the chairman of Phuket Rajabhat University Council, Professor Somboon Suksamran, at the Chang'an campus. He conferred with Professor Wang Han about talent cultivation, and research cooperation under the "Belt and Road" initiative and reached a promising amount of cooperative intentions. Presented at the meeting was the director of Office of International Exchange and Cooperation, deans and vice-deans of the School of International Education, the School of International Law, the School of Graduate Studies, the School of Business and the School of Journalism and Communication.
At the beginning, Professor Wang Han extended a warm welcome to the delegation and he mentioned that Xi'an is the starting point of the ancient silk road with a long tradition of opening up to the outside world and inclusive cultural heritage. It is also an ideal city for international cooperation and exchanges. As a comprehensive university based on legal education and multi-disciplinary coordinated development, NWUPL attaches great importance to the educational exchange and cooperation with the countries along the "Belt and Road". Thailand has been a friendly neighbor of China for centuries. With the increase in the economic, trade and tourism exchanges between the two countries, legal problems have become increasingly prominent. It is suggested that the two universities take this as an opportunity for cooperation such as to jointly train bilingually talented students majoring in international tourism law and cross-border commerce specialized students.
Professor Somboon Suksamran showed his specific interest about the collaboration. At the same time, it is possible that the Phuket local government, legal institutions, and more universities including NWUPL can begin working together to set up a "Belt and Road" academic exchange platform to strengthen the bilateral economic and legal research between China and Thailand, and offer vast opportunities for cultural exchanges and trade cooperation between the two countries.