On the afternoon of February 24, the Annual Work Deployment Meeting of Northwest University of Political Science and Law was held in the lecture hall of Administration Building on Chang'an Campus. It was attended by the University leaders, members of Party committees, assistant principals, members of academic committee, second and third-level professors, specially appointed professors of Chang'an Scholars and Chang'an Young Scholars.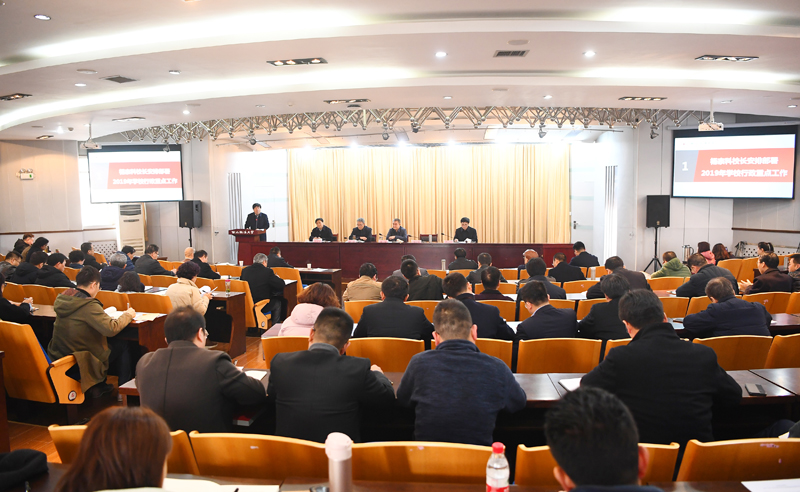 President Yang Zongke laid out the major work of university administration in 2019. He pointed out that 2019 is the 70th anniversary of the founding of the People's Republic of China and it is a crucial year for the implementation of the 13th Five-Year Plan, as well as for the realization of the objectives of the first step in the "three-step strategy" for the construction of high-level universities. We shall undertake the fundamental task of moral values establishment and talent cultivation, adhere to the development path with quality improvement as the core, and promote the formation of a high-level talent training system. Through efforts to surmount difficulties and advance steadily, the University strives to start a new chapter in the progress of higher education undertaking in the new era.
In his concluding remarks, Song Jue imposed requirements on the work in 2019: First, cadres shall assume their duties passionately.Second, the style of work should truly be changed. We shall firmly combat against formalism and bureaucracy in line with reality, and build a conservation-minded campus and resolutely oppose extravagance and waste. In addition, the implementation of work should be ensured in both quality and quantity. Effectiveness should be taken as a measure of the implementation of work, and high standards should be adopted.
Zhao Jian, on behalf of the Party Committee, planned for the propaganda work in 2019 at seven aspects. Xiao Daoyuan arranged the work of building a clean and honest Party in 2019. Li Ping-an put forward requirements for the implementation of the spirit of this meeting.