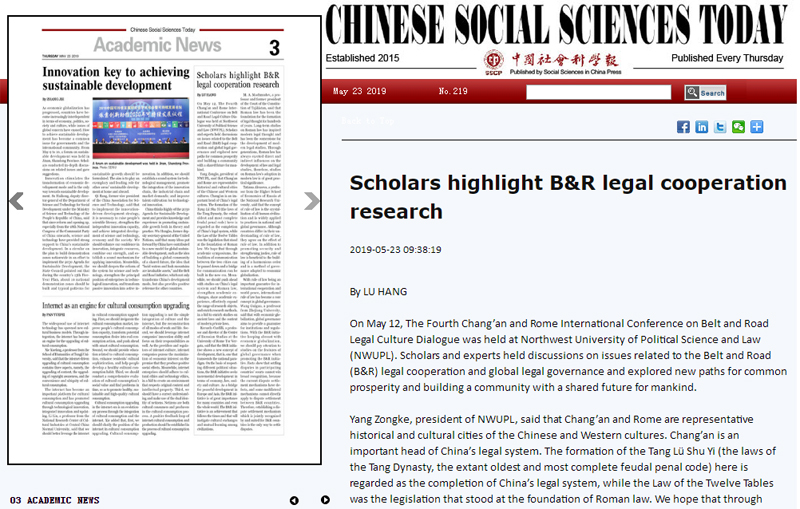 By LU HANG
On May 12, The Fourth Chang'an and Rome International Conference on Belt and Road Legal Culture Dialogue was held at Northwest University of Political Science and Law (NWUPL). Scholars and experts held discussions on issues related to the Belt and Road (B&R) legal cooperation and global legal governance and explored new paths for common prosperity and building a community with a shared future for mankind.
Yang Zongke, president of NWUPL, said that Chang'an and Rome are representative historical and cultural cities of the Chinese and Western cultures. Chang'an is an important head of China's legal system. The formation of the Tang Lü Shu Yi (the laws of the Tang Dynasty, the extant oldest and most complete feudal penal code) here is regarded as the completion of China's legal system, while the Law of the Twelve Tables was the legislation that stood at the foundation of Roman law. We hope that through academic symposiums, the tradition of communication between the two cities can be passed down and a bridge for communication can be built in the new era. Meanwhile, we should push ahead with studies on China's legal system and Roman law, strengthen academic exchanges, share academic experience, effectively expand the range of research objects, and enrich research methods, in a bid to enrich studies on ancient laws and the content of modern private laws.
Riccardo Cardilli, a professor and director of the Center of Eurasian Studies at the University of Rome Tor Vergata, said that the B&R initiative shows a new concept of development, that is, one that transcends the national paradigm. On the basis of respecting different political situations, the B&R initiative seeks incremental development in terms of economy, law, society and culture. As a bridge for peaceful development in Europe and Asia, the B&R initiative is of great importance for many countries and even the whole world. The B&R initiative is an achievement that follows the times and that will instigate cultural exchanges and mutual learning among civilizations.
M. A. Machmudov, a professor and former president of the Court of the Constitution of Tajikistan, said that Roman law has been the foundation for the formation of legal thought for hundreds of years. Long-term studies on Roman law has inspired modern legal thought and has been the cornerstone for the development of modern legal studies. Through generations, Roman law has always exerted direct and indirect influences on the development of law and legal studies, therefore, studies on Roman law's adoption in modern law is of great practical significance.
Tatiana Alexeeva, a professor from the Higher School of Economics of Russia at the National Research University, said that the concept of rule of law is the crystallization of all human civilization and is widely applied to practices in national and global governance. Although countries differ in their understanding of rule of law, they agree on the effect of rule of law. In addition to promoting security and strengthening justice, rule of law is beneficial to the building of a harmonious order and is a method of governance adapted to economic globalization.
With rule of law being an important guarantee for international cooperation and world peace, international rule of law has become a core concept in global governance. Wang Guiguo, a professor from Zhejiang University, said that with economic globalization, global governance aims to provide a guarantee for institutions and regulations. With the B&R initiative keeping abreast with economic globalization, we should pay attention to studies on the features of global governance when promoting the B&R initiative. Facts show that settling disputes in participating countries' courts cannot win broad recognition, because the current dispute settlement mechanisms have defects, and some multilateral mechanisms cannot directly apply to dispute settlement between B&R countries. Therefore, establishing a dispute settlement mechanism which is jointly recognized by and suited for B&R countries is the only way to settle disputes.