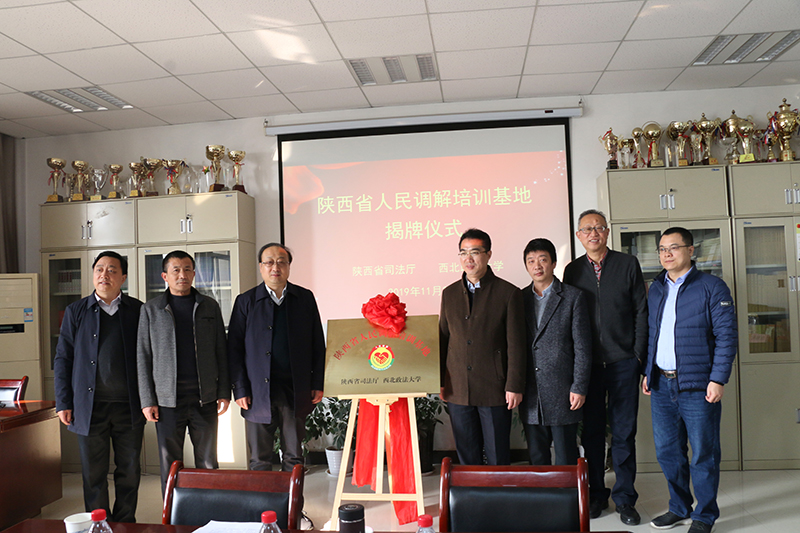 On November 21, the unveiling ceremony of Shaanxi Provincial People's Mediation Training Base was held in the School of Civil Commercial Law at the Chang'an campus of Northwest University of Political Science and Law. Ma Renwei, Deputy Director of the Provincial Department of Justice, and Zhang Junzheng, Vice President of the university delivered speeches. More than 20 officials, mediators, and teachers attended the ceremony, including Hong Hanping, Deputy Inspector of the Provincial Department of Justice, Zhang Xiangbin, official from the Provincial Political and Law Commission, Yuan Junjie, Deputy Secretary of the Acceptance Division of Shaanxi Higher People's Court, Hua Wensheng, Director of the Rule-of-law Department of the Provincial Department of Justice, Song Xinqing, President of the People's Mediation Association. The ceremony was presided over by Hua Wensheng.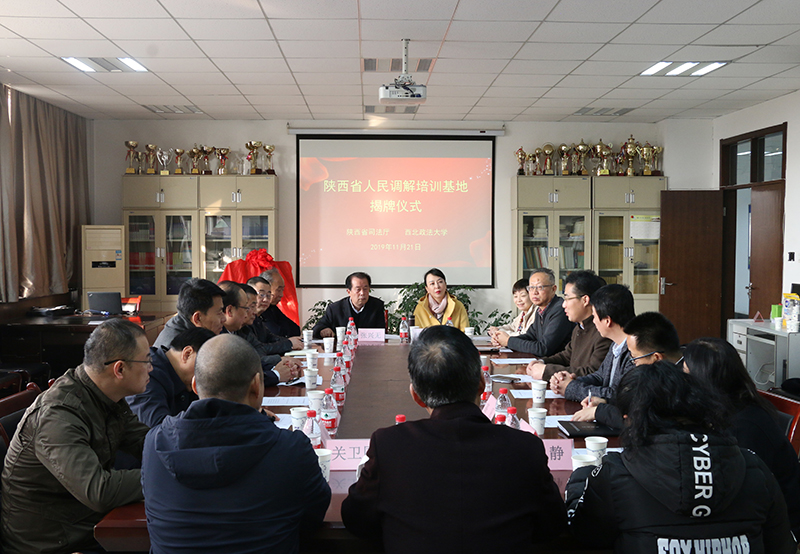 The establishment of the Shaanxi Provincial People's Mediation Training Base is to fully implement the spirit of people's mediation. It is aimed at strengthening the training of mediators, advancing the theoretical and practical innovation in mediation, comprehensively improving the quality and capability of the mediators in Shaanxi province.
Ma Renwei stated that efforts should be made to build the training base into an eminent first-class training platform and a leading scientific research platform. Meantime, it is necessary to carry out theoretical discussions, academic exchanges, field trips, and other activities related to people's mediation, which will provide opportunities for the teachers and students of Northwest University of Political Science and Law to conduct investigation and internship. It is expected to yield a number of significant and influential academic achievements.
Zhang Junzheng first expressed warm welcome to the leaders and mediation experts. He points out that the Shaanxi People's Mediation Training Base is another in-depth cooperation between the two sides after the establishment of the Shaanxi "Belt and Road" Law School on April 9. The School of Civil and Commercial Law should take this as an opportunity to strengthen communication and innovate cooperation mechanism. We should make contribution to improving people's mediation and prevention of social conflicts and disputes, and play an active role in promoting the construction of rule of law and the innovation in social governance.
A teacher representative Dong Shaomou and a mediator representative Zhang Xingwu also expressed their attitude. Zhang Xiangbin and Yuan Junjie congratulated on the establishment of the training base and put forward their expectations and suggestions.
In the end, Ma Renwei and Zhang Junzheng jointly unveiled the nameplate of the training base.