On January 4th, the closing ceremony of "A Trip to Xi'an, A Taste of China" under the "Chinese Bridge" Online Group Exchange Program hosted by the Center for Language Education and Cooperation of the Ministry of Education and undertaken by our university was successfully held at Chang'an Campus. Saule Anuar, vice principal of the International Kazakh-Chinese College, Hu Xufeng, director of the China-Thailand Education and Cultural Exchange Center, Sumonwan Chan Thakran, Vice President of Samakkhi Witthayakhom School (Thailand), Sang Yuanfeng, director of the Office of International Exchanges and Cooperation of our university, lecturers and nearly 400 teachers and students in educational institutions from Kazakhstan, Russia and Thailand participated in the online ceremony via Tencent Meeting. Chen Mengqi, vice director of the Office of International Exchanges and Cooperation presided over the ceremony.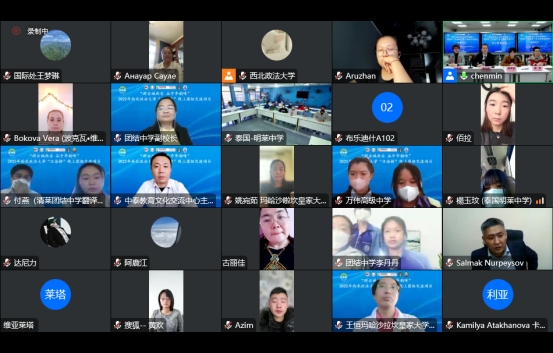 Sang Yuanfeng congratulated all the students who have successfully completed their studies. He highlighted that our university has always valued pragmatic cooperation with educational institutions and regularly undertaken projects under the "Chinese Bridge" Online Group Exchange Program to build a platform for mandarin lovers to learn Chinese and experience Chinese culture, hoping to deepen mutual understanding and make mandarin a bridge of culture and friendship connecting China and the world. Students are expected to acquire and apply what they have been taught, aspire to be new messengers of the Silk Road with proficiency and expertise in both Chinese language and culture.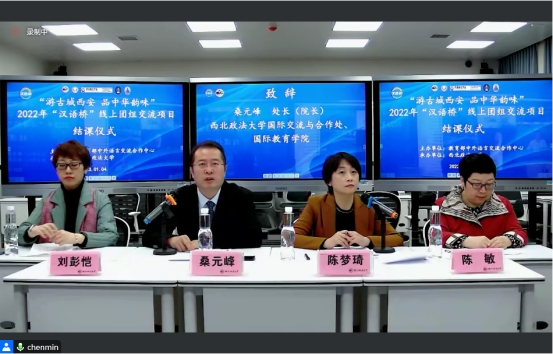 Saule Anuar and Sumonwan Chan Thakran expressed sincere gratitude to our university for providing their students with the opportunity to learn Chinese culture and language online. They acknowledged the significance of "Chinese Bridge" online group exchange program for overseas teenagers to learn Chinese language and understand Chinese culture, and hope that all shareholders continue to grow positive and friendly cooperative ties.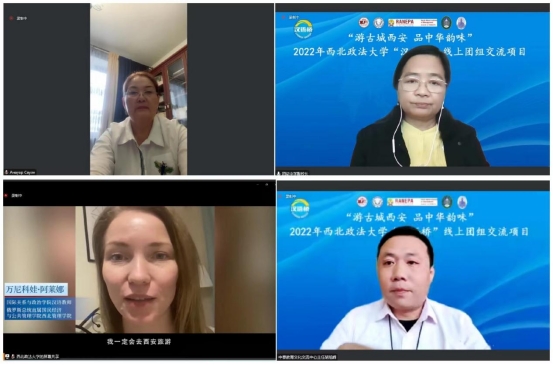 Chen Min, one of the instructors, encouraged students to keep the passion for understanding Chinese culture, study hard and make continuous progress to get prepared as a messenger of culture. Student representatives Kusan Aruzhan from International Kazakh-Chinese College and Li Dandan from Samakkhi Witthayakhom School, said the learning improved their Chinese proficiency and their understanding of Chinese tea, calligraphy, dance and other cultural elements. They were also impressed by the food and historical attractions in Xi'an, and expressed their willingness to visit Xi'an to study and experience in person.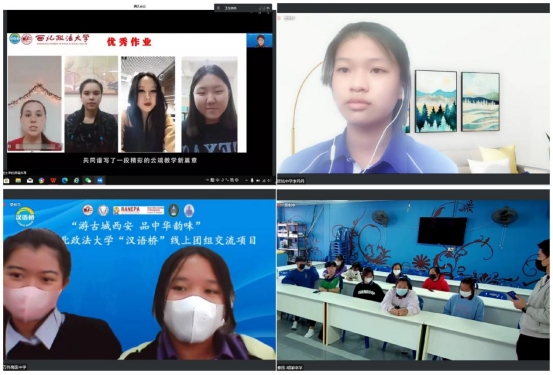 At the closing ceremony, a video summary of the 15-day online learning project showcased students' aspiration to explore and progress. Twenty-nine participants are rewarded as "Outstanding Students" of the project for their excellent academic performance.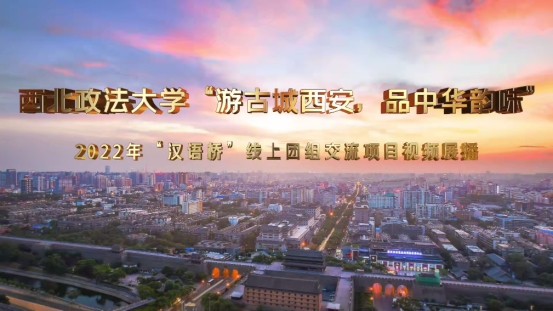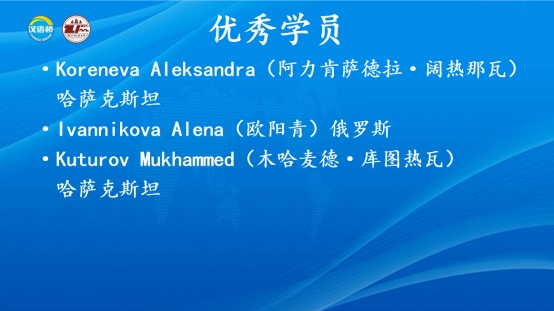 The project "A Trip to Xi'an, A Taste of China" held from 21 December 2022 to 4 January 2023 has attracted nearly 400 learners from Kazakhstan, Russia, Thailand and other countries to improve their mandarin and better understand Chinese culture through live language courses and recorded culture courses. The curriculum is designed to guide overseas teenagers to appreciate the essence of traditional Chinese culture and contribute to friendly exchanges.